Coffee Description
This organic blend offers sweet, smooth and robust showcases flavors of dark chocolate, brown sugar and caramel. Smooth and sweet enough to drink black, it also pairs well with milk or shines as an espresso.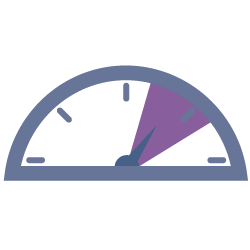 Roast Level
Medium/Dark
About ORG Rainforest Blend
Having numerous exceptional fair trade coffees within fingertip reach means the possibilities are practically limitless. Klatch finds itself in this enviable state 24/7, and with so many unique flavor profiles available, concocting a delicious blend from such components just makes sense.
In this case, they've selected organic coffees from both Central and South America, choosing those that best represent these countries. The results is a classic: sweet and smooth, loaded with chocolate and caramel goodness.
Klatch
Klatch \ˈklach, ˈkläch\ --People getting together to share life, especially over coffee.
And that's what Klatch Coffee has been about since owner Mike Perry decided to follow his passion for quality coffee. While in college, he asked himself, "Why not bring together the charm and comfort of a traditional coffeehouse and serve world class specialty coffees?" And so he did. In 1993, he and his wife, Cindy, opened their first location in Rancho Cucamonga, CA, called it Coffee Klatch (later changed to the present name, Klatch Coffee), and began searching the world for the cream of the coffee crops, and small-batch roasting that top 1% of specialty beans to coax the best flavors and aromas from them.
Now, with five locations (plus their roastery) in Southern California as well as a shop in LAX United Terminal, Mike and his family and their dedicated team have built on that foundation of being a place where people love to linger over truly special coffee. Meanwhile, they're making history one award at a time. A few of these include:
Prestigious Golden Bean Awards
Only espresso ever awarded "Best Espresso in the World" at the World Barista Championships (2007)
U.S Brewers' Cup Champion
Good Food awards winner
Mike says, "Our commitment to honest business practices means we build trust and loyalty with the farmers we work with. All of this is accomplished through a Direct Trade model and a simple handshake."
Or try these other coffees from
Are you sure you want to remove this coffee?
Are you sure you want to remove this suggestion?