Coffee Description
(Note: Available ONLY in 10 oz. bag). This velvety espresso blend features deep plum and strawberry flavor notes along with roasted almonds and a caramel-and-chocolate finish. Sweet, mildly winey acidity and caramelized body. Great with or without milk.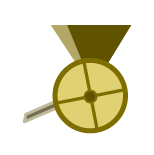 Process
Natural
About Leviathan Blend
Leviathan Blend, named for the mythical sea monster of lore that devoured ships and sailors, is Anchorhead's take on the legend. A mighty fruit-forward monster of an espresso that doesn't disappear below the depths of milk, Leviathan is all about the structure. A vibrant and fruity Ethiopian Guji coffee forms the backbone for this epic blend, while a microlot Brazilian coffee adds the sleekness and shine.
Okay. So we know the world isn't flat and sea monsters don't lurk along the edge of the precipice. But this easy-sipping two-seed blend that stands up to a heavy splash of milk could start new rumors. Perhaps there are monsters amongst us after all...

>
Our coffee expert Michael McIntyre Licensed Q Grader, Green Coffee Importer, Cupping Judge, 15+ Years Experience
A Good Food award-winning roaster and licensed Q Grader, Michael McIntyre specializes in sourcing and quality control in green coffee and in roasting training and analysis. He spends months of the year in Ethiopia sourcing the next year's coffee offerings for importing company Catalyst Trade, which he co-founded. Back in Portland, he spends endless hours on the phone helping roasters find their coffee unicorns, consulting with clients on a wide range of coffee topics, and training coffee professionals in roasting, cupping, sourcing, and quality control. With fifteen years experience in the coffee industry, Michael is relentlessly romanced by coffee and the community it facilitates. Outside of coffee, he is a musician with a love for vintage amps and an addiction to trolling Craigslist ads for antique coffee gear. had this to say:
"blueberry pancake; boysenberry syrup; boston baked beans; toasted almonds"
Anchorhead Coffee
Sporting a moody, maritime vibe and serving up killer coffee and their own baked goods, Anchorhead Coffee is doing coffee right in Washington state (Duvall, to be exact, with café locations in downtown Seattle and in Issaquah). Launched in 2013, Anchorhead sailed right into the big leagues, winning the 2015 "America's Best Espresso" competition with their Ethiopian coffee, finaling for a Good Food Award with their Guatemalan roast, and collecting numerous awards at annual Golden Bean competitions.
When long-time audio engineers Mike Steiner and Jake Paulson decided to wind down traveling the world, combining their passion for coffee into a cafe and roastery just made sense. With Mike handling the roasting and sourcing aspects and Jake developing the cafe and marketing side, Anchorhead continues to expand their vision of sourcing expressive, lively coffees, then roasting them in a way that brings out the intrinsic character of each. Yup. They love coffee, cafe culture, and serving up a sweet and balanced cup they're proud to put the Anchorhead Coffee name on. (They also love toys like drones, cameras, dirt bikes and motorcycles).
Or try these other coffees from
Are you sure you want to remove this coffee?
Are you sure you want to remove this suggestion?